Collaboration is important, but budgeting for it isn't easy. Any organization would want to find a way to get the most value out of its collaboration solution without breaking the bank. Enterprises need to be especially wary since the wrong solution could wind up costing them hundreds of thousands of dollars.
Among collaboration solutions, some might think Teams is more expensive than most. The price tag on the solution, its respective calling features, and the rest of the Microsoft Suite seems like it would be high. The truth, however, is that Teams is much more affordable on the enterprise level than its competitors.
Pricing for Teams and Zoom
Where an issue like price is concerned, it's important to not beat around the proverbial bush. Each collaboration software offers a free version, but these are so light in features that even the most pedestrian users would need at least some of the premium options. As the price goes up, so do the features each platform offers, but which price is best?
Microsoft Teams
For the enterprise, Microsoft offers its best licenses, with none being better than Office 365 E5. This license includes the desktop version of all Microsoft's apps, including Teams, and features advanced security, analytics, and voice capabilities. Guard your mailbox with Exchange Online Advanced Threat Protection, or make, receive, and transfer calls with Phone System.

The total cost of this license is $35/user/month. A Microsoft Calling Plan would raise that price to $47, but that's a completely optional feature. Even without voice access, the value of Microsoft 365 cannot be understated. This includes not just Teams, but Outlook, OneNote, OneDrive, and SharePoint.
Zoom
Zoom differs from Microsoft in that it charges per host instead of per user. This might make it sound like a better deal already, but that's not necessarily the case. Zoom doesn't have its own versions of Outlook (email), SharePoint (document sharing and collaboration), or OneDrive (secure file storage in the cloud for every user). This means that in order to get the features these apps offer, Zoom users will have to use third-party apps.
Dropbox is an alternative to SharePoint and OneDrive. However, it comes with its own price tag. Dropbox for business starts at $20 per user. For enterprise, there is no listed price on Dropbox's website, though it's hard to imagine it would be any less.
Slack is another app a Zoom user might need to rely on to fill the gaps Zoom leaves. Like Dropbox, Slack doesn't list a price for its enterprise option, but its "plus" plan runs for $12.50 per user.
Adding all these things together turns Zoom, an option that might have seemed economical, into a budgeting disaster.
A Collaboration Pricing Hypothesis
Numbers are generally much easier to understand with perspective. Let's examine a hypothetical scenario wherein two fictional companies with 5,000 users each deploy Microsoft or Zoom.
Company A deploys Microsoft Teams. As an enterprise level organization, it won't settle for less than Office 365 E5 licenses. Though this company wants to leverage the plethora of apps Microsoft has to offer in its Office suite, its users conclude that enabling calling features would be redundant and opt out of getting a new one. Company A must now pay $35 a month for each of its 5,000 users, coming to a $175,000 monthly payment.
Company B deploys Zoom. Unlike Company A, Company B will only pay a price per host on its Zoom solution. The enterprise package for Zoom requires a minimum of 100 host, but an organization such as this one would have more than 100 people who need to host meetings. Company B decides then to deploy the solution for 1,000 hosts. At $19.99 per host, Company B pays $19,990 a month for its Zoom solution. Quite the difference from Company A, or at least it would be if that's where it ended.
As Company B grows accustomed to Zoom, its users soon realize that they don't have a place in Zoom to store files, let alone easily share them. A few users suggest using Dropbox to solve this problem, as many of them already do so. Despite some concerns about the platform, Company B opts to deploy Dropbox . To save money, the company chooses the standard Dropbox Business solution, costing $12.50 monthly per user.
Another problem arises for Company B. Many of its users are disappointed at Zoom's lack of a chat feature and begin using Slack to compensate for it. Try as Company B might to stop this from happening, it quickly becomes apparent that simply deploying Slack is the path of least resistance. Once again looking to save money, it opts to deploy Slack Plus, costing another $12.50 per user per month.
At perhaps the most conservative estimate, Company B now pays $144,990 a month for this cluster of solutions. That may still be less than Company A pays for its Microsoft Solution, but there's a good chance Company B would wind up paying more. Having only 1/5 of its user base with host privileges in Zoom might hinder its collaboration abilities, as would not having the best versions of Dropbox and Slack.
A more realistic number for Company B would be $79.98 per user per month, covering its expenses in Zoom, Dropbox, and Slack. This totals to a monthly cost of $399,900, a much higher cost than Company A paid for its Microsoft solution, and much more of a hassle.
In the end, Microsoft saved Company A $224,900 per month. Even if the organization had opted to pay for a calling plan, taking its cost per user up to $47 instead of $35, it would have still saved $164,900.
The Threat and Cost of Shadow IT
One might ask what would happen if Company B chose to not deploy Dropbox or Slack. While that remains a possibility in theory, it might not necessarily be the company's choice. Dropbox and Slack are both easily purchased by individual users using corporate credit cards, meaning companies could wind up paying for these solutions even when they don't want to. This is what we call shadow IT.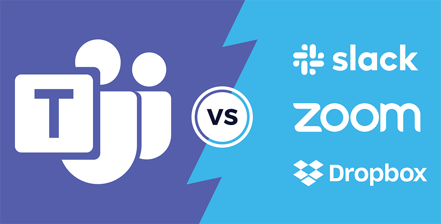 Shadow IT is by its very nature unmanageable and can be detrimental to a company's finances and security. Often, shadow IT leads to data loss and compliance issues and can create redundancies that reduce efficiency and waste money. Dropbox and Slack are both easily purchased by individual users using corporate credit cards, meaning companies could wind up paying for these solutions even when they don't want to. This is what we call shadow IT.
It does, however, come from an understandable place. Shadow IT usually occurs when a company's chosen technology proves inadequate in certain areas, leading its users to seek out alternatives. Because of Zoom's lack of certain features, it's the perfect example of a solution that could put an organization at risk.
The True Value of Teams and Microsoft 365
Looking on the surface, Zoom may appear cheaper than Teams. In practice, not only is Teams the cheaper of the two, but it's also far more valuable for an enterprise organization. Zoom's lack of features invites the dangers of shadow IT and can create overcomplicated, expensive, inefficient solutions. Teams, on the other hand, being a part of the Microsoft 365 suite, leaves no holes for shadow IT to creep in and hurt your company.
Teams can save your workers up to 4 hours of time per week.
Teams helps enterprises save both money and worker efficiency, and with the apps that accompany it in Microsoft 365, offers features beyond basic collaboration. Not only does it come at a better price, it offers far more value as well, and can save your workers up to 4 hours of time per week. The larger the organization, the more benefits a Microsoft solution can provide.
Getting Started With Microsoft Teams
Using a collection of platforms like Zoom, Dropbox, and Slack can get expensive quickly and leave employees confused and IT with the 'mission impossible' to make it all work. Not to mention compatible hardware and meeting rooms.
At Continuant, we understand how complicated a technology landscape can get. In our 26+ years of business we have helped dozens of Fortune 1000 companies transform their voice and collaboration environments.
We'd like to offer the same to you. In a 30-minute call we'll learn how your organization works, what you want to achieve, and what challenges need to be overcome. Then, we'll design, deploy and maintain a solution that will transform the way your organization collaborates.
Your UC environment should save you time and reduce expenses, not cost you more.
Source: Continuant
————————————————————–
Have you checked out the new WhichVoIP.co.za website as yet? Benchmark your services against your peers, have a look at what your competitors are doing, get listed in the best Telecoms provider directory in South Africa, and advertise on the site to attract customers to your page where you can view page hits, respond to reviews, load adverts, and more.
Visit WhichVoIP.co.za or jump to a leading comparison section:
Enjoy the site!
————————————————————–