Shenzhen, China – March 10, 2022 – Fanvil, a leading global Audio & Video -IoT device provider, today announced globally its brand new V series, the groundbreaking desk phones with a perfect combination of elegant outside and powerful inside.
Louis Chen, Executive President of Fanvil, said, "Intelligent business communication is ushering in an exciting new time in smart IoT technology. Fanvil has invested a significate amount of time and effort into coming up with a more high-efficiency and integrated approach to the communication devices and solutions in wider application scenarios. We believe, Fanvil V series will bring the business communication experience to a new level."
Among the greatest innovations were the newest flagship video phone with adjustable touch screen and cool lighting keypad, Fanvil V67 brings a new approach to intelligent business communication and offers a refreshed user experience.
Cool Lighting Color, Show Off Your Keypad
The inspiration for a cool lighting keypad in V67 comes from the luxury car interior. The flow lighting not only pleases your eyes but also improves your work efficiency as a status indicator.


Adjustable Touch Screen, Enjoy Your View
Find a comfort angle by yourself! The adjustable touch screen can easily adapt to the different visual angles of users. Featuring a built-in HD 5-megapixel camera, Fanvil V67 delivers you an enjoyable video communication experience.
Antibacterial Surface Protection
Antibacterial material of the handset and keypad surface effectively inhibits more than 99.5% of bacteria growth. We protect your health during the special period.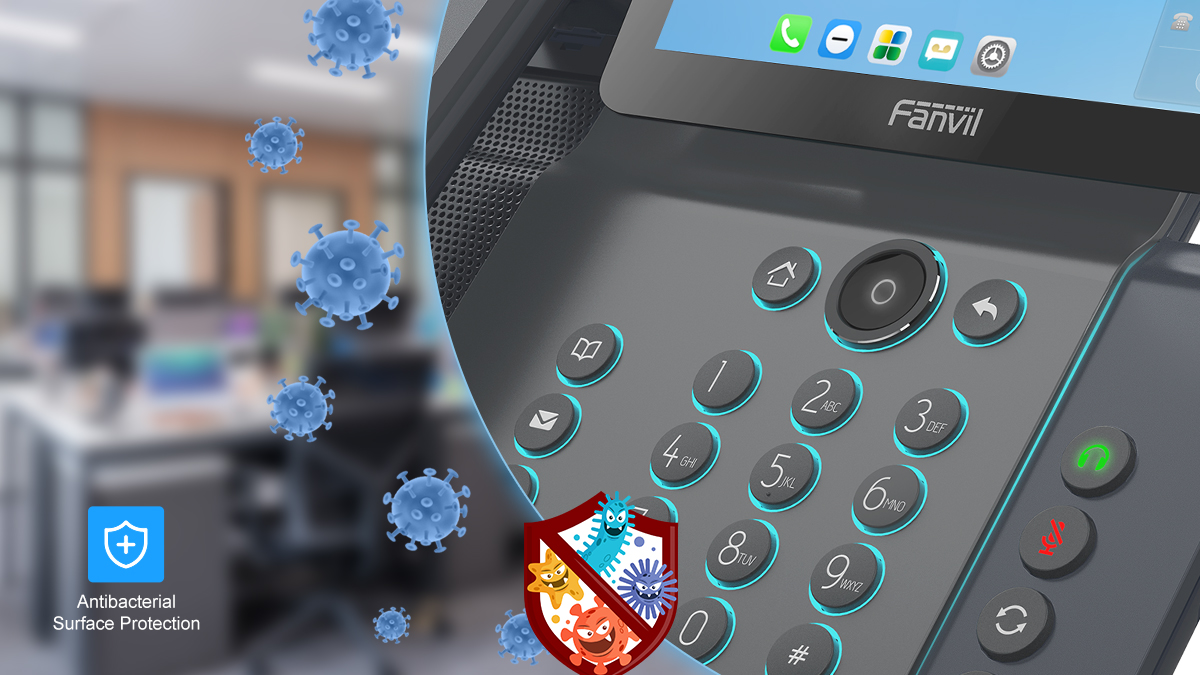 Built-in WiFi and Bluetooth, Wireless and Limitless
Don't limit yourself in the seat! Stand up and continue your work with a wireless desk phone and a wireless Bluetooth headset. Moreover, you can enjoy your video conference on a bigger screen via Miracast.


Audio/ Video Mixed Conferencing, Connect More
With HD audio and video, Fanvil V67 supports 10-party audio conferencing (including 2-party video call) or 3-party video conferencing at most, providing high-efficient team communication and collaboration.


Available to Link with Security Products
Compatible with SIP standards and major mainstream platforms, the new V67 can be easily customizable in various security solutions.
About Fanvil
Fanvil Technology Co., Ltd. (Fanvil) is a leading global provider of A&V-IoT devices. With three R&D centers in Beijing, Shenzhen, and Suzhou, China, Fanvil has compiled an effective team of R&D, production, sales, and service staff to innovate and add value to our business partners. As the pioneer in applying SIP and Audio & Video technologies to build A&V-IoT, Fanvil is boosting the digital transformation for multiple industries.

Adhering to the core values of Efficient, Team Work, Integrity, Positive and Enterprising, Fanvil is committed to providing high-quality A&V-IoT devices, and building an intelligent world of infinite communication.
For more information, please contact us at sales@fanvil.com
LinkedIn | Facebook | Twitter | YouTube 
Sourced from: Fanvil. View the original article here.