Posted on June 25th, 2020 by Amy Elliott, Head of Content
With countries across the globe in various stages of "getting back to normal", many countries or regions, such as the UK and US, are just opening up for business. However, they have all been faced with a serious challenge; how can we open, operate and remain profitable whilst following Covid-19 restrictions?
Pubs, restaurants, clothing shops and cafes are bearing the brunt of this, with numerous establishments shutting up for good. Office-based organizations, however, are able to get back to business without feeling the effects of restrictions as strongly. How? With remote working of course. Even customer-facing departments, such as customer service centers, can easily work from home without negatively impacting their productivity.

3CX can help businesses facing social distancing restrictions
The UK government has set out specific guidelines and measures for offices and contact centers in order to comply with safe working practices and social distancing restrictions. The steps to be followed are extensive, and involve but are not limited to:
Implementing regular handwashing and surface cleaning procedures
2 meter distancing between employees
Limiting the number of employees in spaces
Staggering arrival and departure times
Marking entry and exit points
Individually assigned workstations
Adjusting office layouts or implementing screens to separate employees
Avoiding the use of hotdesking
Avoiding in-person meetings
In order to properly comply with the regulations, organizations will need to invest a significant amount of time and effort to devise a risk assessment and implement these steps. For some businesses, it's just not possible. With contact centers in particular, especially those that utilize hotdesking, enforcing social distancing measures is simply not feasible. Luckily, 3CX offers the ideal virtual contact center solution, with features accessible from anywhere with an internet connection.
No need to worry about deskphones
"As an employer, you also have a legal responsibility to protect workers and others from risk to their health and safety."
In many cases, it's not possible to assign individual workstations to every employee and it's difficult to keep up with stringent cleaning schedules or sanitize absolutely every surface that may have been touched. With the possibility of infected employees leaving their mark on equipment, particularly deskphones, it would be wise to allow agents to work from home.
With 3CX this is easy. Users need only their laptop or PC, smartphone or headset. They can easily access the virtual contact center system and manage calls and chats just as if they were in the office.
Remote working is not as scary as it sounds
For many companies, remote working is new. And new can be scary. With a modern, easy to manage virtual contact center solution though, it really doesn't need to be.
"Businesses and workplaces should make every reasonable effort to enable working from home as a first option. Where working from home is not possible, workplaces should make every reasonable effort to comply with the social distancing guidelines set out by the government (keeping people 2m apart wherever possible)."
Work from home?! How can we do this?! It will be too difficult to implement!
Really? Think about it. In actuality, it would be much more difficult, costly and time consuming to implement all the measures required in order to open your office for business. If you're already using 3CX, you don't really have to do much to enable your employees to start working from home. At most, you might need to adjust some users' rights so that they are able to access and use the phone system from an exterior network as well as make sure they have the appropriate equipment (such as headsets) in order to get started. If you're new to 3CX, installation and deployment is easy and can usually be done in just a few hours.
If you're a team leader and are worried about the productivity of your remote team, remember that remote workers are consistently reported as being more productive than their onsite counterparts. In fact, studies have shown that this can be by as much as 20-25%. If you still have concerns, 3CX PRO and ENT licenses include comprehensive agent activity reports, so you can easily monitor their activity.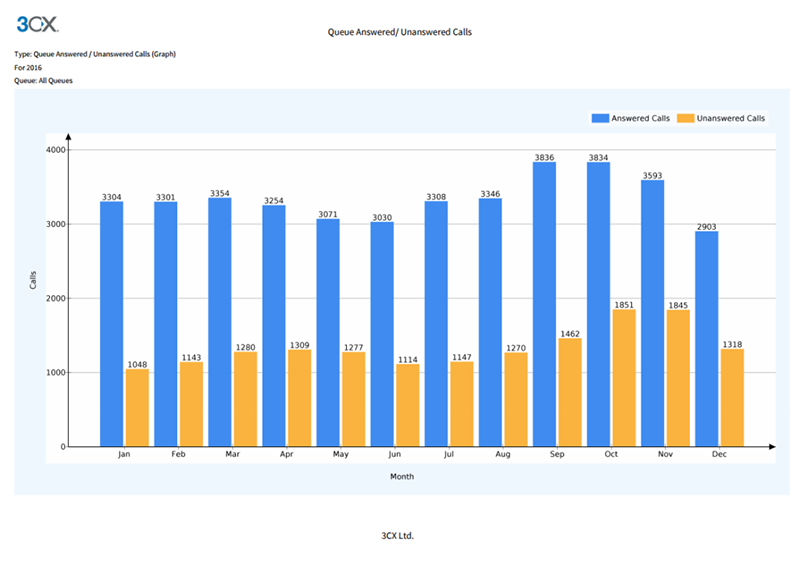 Essential features of your 3CX virtual contact center solution
3CX is user-friendly and easily accessible by design. Users have everything they need to communicate effectively from their laptop/PC, tablet or Android or iOS smartphone. So let's take a quick look at some of the essential features that make 3CX a great virtual contact center solution.
The 3CX Web Client
First and foremost, the 3CX Web Client. It provides all users with a centralized hub for their communications and, as it's completely web-based, all they need to do is head over to their company's unique web client URL and login.
Smartphone apps for Android & iOS
It's likely that most call center agents will stick to the trusty web client but, just in case, they can still make and receive all calls as well as respond to customer chat messages directly from their smartphone.
IVR digital receptionist
Creating and implementing a strategic IVR can boost efficiency of call handling, improve call flows, improve customer satisfaction, and reduce administration time for call center agents.
Call queues
With 3CX it's easy to devise an effective call queue strategy to ensure that customers are routed to the appropriate group of agents without facing hold music for too long. Coupled with a digital receptionist, it's a great way to boost customer satisfaction and agent productivity, and can be a lifesaver during critical times where employees are having to adapt to new ways of working.
Call reporting & analytics
This allows call center managers and higher ups to monitor performance of agents. So, although you might not be able to visibly evaluate how much work agents are doing, the ability to view stats such as calls answered/dropped offers peace of mind and the confidence that remote agents are actually working rather than catching up on netflix – and in many cases, are even more productive.
Wallboard
Contact centers have long displayed wallboards with real-time stats in order to keep agents motivated and encourage them to hit targets. A virtual contact center need be no different, and with 3CX agents working from home can still access this feature easily from the web client.
Interested in finding out more about how 3CX can offer the ideal virtual contact center solution? Head over to our on-demand contact center webinar to get more information.
Sourced from: 3CX Blog. View the original article here.
————————————————————–
Have you checked out the new WhichVoIP.co.za website as yet? Benchmark your services against your peers, have a look at what your competitors are doing, get listed in the best Telecoms provider directory in South Africa, and advertise on the site to attract customers to your page where you can view page hits, respond to reviews, load adverts, and more.
Visit WhichVoIP.co.za or jump to a leading comparison section:
Enjoy the site!
————————————————————–