Posted on May 13th, 2020 by KyriakosP, Technical Content Writer
With all this social distancing, are you starting to miss seeing your colleagues, even the ones you don't get on with so much? Having to work from home does not mean having to miss out on up-front and personal meetings. The brand new 3CX iOS App (Beta in TestFlight) has you covered. Take calls, chat and have face-to-face video meetings while at home.
Your Next Generation Visual Communicator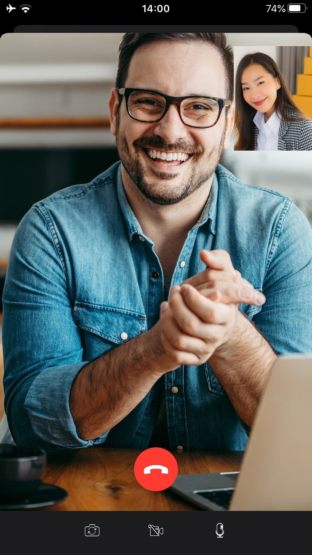 At a time like this, you can't solely rely on your office desk phone. Chances are you're working from home like the rest of us. Even so, you still need to be able to reach out to your colleagues and customers, via calls, video or chat.
And our new iOS app can do just that!
Video Calls – Start face-to-face meetings with your colleagues and web visitors. While calling, tap "Video" to easily switch your call to a one-on-one video meeting.
Audio Conference – Need to schedule a conference call? Tap on "Conference" to create and manage conference calls with colleagues and contacts. Participants that you invite to a conference can easily join without the need to install any apps or create any accounts – simply dial-in, enter the conference PIN and start talking!
Improved Notifications to Never Miss a Call
The incoming call and chat notification service has been massively updated. This ensures that you get notified immediately of an incoming call/chat by waking up your device, making this new version much more reliable than the previous one.
Additionally, the re-designed functional layout of the UI makes searching contacts much easier and straightforward.
These and more features are available in the new iOS app. Make sure to update your app today and check our blog for more feature highlights, such as Chat and Security.
Sign up to join our iOS testing team and let us know what you think on our forum.
Sourced from: 3CX Blog. View the original article here.
————————————————————–
Have you checked out the new WhichVoIP.co.za website as yet? Benchmark your services against your peers, have a look at what your competitors are doing, get listed in the best Telecoms provider directory in South Africa, and advertise on the site to attract customers to your page where you can view page hits, respond to reviews, load adverts, and more.
Visit WhichVoIP.co.za or jump to a leading comparison section:
Enjoy the site!
————————————————————–