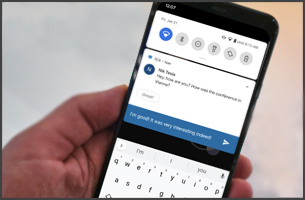 The latest 3CX Android App launched in BETA on Google Play store delivers interactive chat notifications, the ability to share multiple files, and improved support for more Android phone models.
Take Chat to the Next Level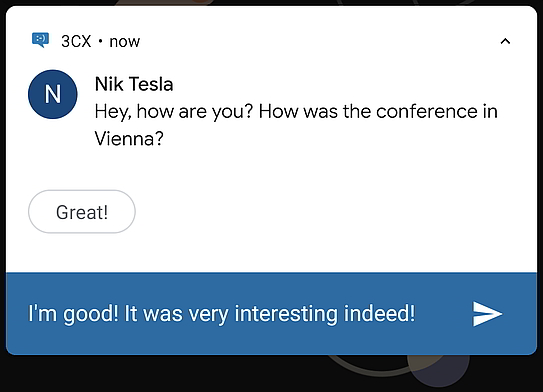 With the new App, your 3CX chat notifications are interactive. Fast-reply directly from the chat notification, without switching to the main app.
Achieving Maximum Compatibility

As device manufacturers keep rolling out firmware updates for Android 9 and 10, the new app ensures maximum compatibility with these versions. Not to mention the stability improvements and fixes applied, to ensure smooth operation on phones, including:
OnePlus
Huawei Mate 20 Pro
Xiaomi Mi 8
Other Significant Fixes
The user is notified when Push notifications fail. Failure is due to an expired Google Firebase subscription, caused by long user inactivity of over 7 days.
Calls were being placed on hold on specific phone models including Samsung S10, S10 Note. When receiving a second call while in an active call, the second call was being placed on hold immediately after it was answered.
Right-to-left text entry in chats, e.g. Arabic.
How to Try it
Join the 3CX Beta Program and download the new Android Beta app through Google Play Store.
Give us your feedback via the dedicated community forum. Please leave your comments, including your Phone model, Android OS, which API was selected and tell us whether your telephony experience was better or not. (You can take a screenshot of the network quality indicator because it contains everything we would need to provide analysis).
Sourced from: 3CX Blog. View the original article here.
————————————————————–
Have you checked out the new WhichVoIP.co.za website as yet? Benchmark your services against your peers, have a look at what your competitors are doing, get listed in the best Telecoms provider directory in South Africa, and advertise on the site to attract customers to your page where you can view page hits, respond to reviews, load adverts, and more.
Visit WhichVoIP.co.za or jump to a leading comparison section:
Enjoy the site!
————————————————————–