2021 was not a year of banality. From pandemic to endemic, hybrid work has become the "new normal" and businesses were faced with the new challenges to plan a safe return-to-office while simultaneously accommodating their employees working from home.
At Yeastar, we've been hard at work helping customers and businesses worldwide to cope with the challenges and succeed in the new norm. We've dug deeper in business unified communications with several breakthroughs and rolled out our first workplace scheduling solution to fuel digital workplace transformation.
Here we would like to share some of our highlight moments in the past year and give you a 2022 sneak peek.
New Innovations on Business Communications
If there are keywords on what Yeastar was up to in 2021 for the PBX market, then it should be "Unified", "Connectivity" and "Innovation". To bring a "Plus" business phone system that powers everywhere-everyway communications at ease, we've up-leveled our P-Series PBX System throughout the year with 20+ new features, 170+ new IP Phone auto-provision support, and 4 new integrations with 3rd-party communications resources, including Zoho CRM, Hikvision Intercom, Dahua intercom, and Jabra headset.
Besides, to provide an easiest and flexible deployment experience, we also introduced our first software PBX (P-Series Software Edition) in July, the new Yeastar Cloud PBX (P-Series Cloud Edition) in September, and the channel-exclusive Yeastar service delivery & device management platform (Yeastar Central Management) in October.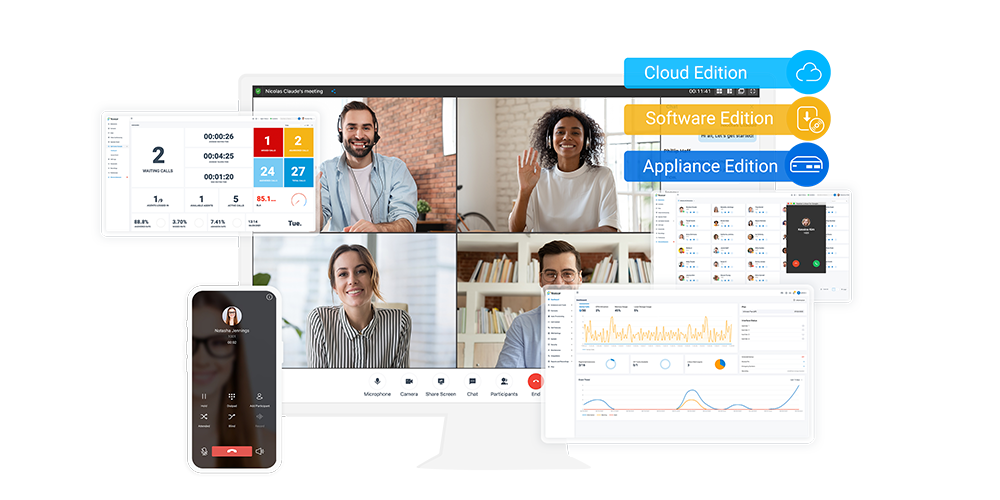 All these inputs have made up a complete communication stack that is pushing boundless communications, seamless collaboration, and a prepared future of work for businesses of various industries; and to our delight, brought Yeastar a year of harvest.
Over the past year, we've marked a few milestones thanks to the more welcomed Yeastar P-Series PBX System and upgraded Yeastar solutions. We've witnessed:
An impressive 70% free trial conversion rate of P-Series Enterprise/Ultimate Plan
43% increase in Linkus UC Clients usage
45% increase in cloud PBX hosting partners
100% increase in cloud PBX revenue
91.81% of "Above Good" partner satisfaction on Yeastar product quality
91.97% of "Excellent" partner satisfaction on Yeastar sales support
93.4% of "Excellent" partner satisfaction on Yeastar technical support
And by 2021, we have reached over 350,000 Yeastar PBX system users worldwide. Hurrah!
A quick glimpse of the major new features that contributed to the harvest:
PBX-integrated video conferencing: organize and join a meeting directly from any browser and enhance team collaboration with instant link invitation, screen sharing and team chat.
Remote Access Service: designed for P-Series appliance and software edition. Enjoy easy and secure communications regardless of locations and set your team up for anywhere-anytime productivity instantly.
Instant Messaging: chat with your teams one-to-one or in group. Liven up the conversations with emojis, instant file sharing, and easy shortcut to audio & video calls.
PBX-native Company Contacts & Phonebooks: create contacts and build phonebooks for easier directory search. Benefits from cross-clients synchronization, caller ID match, and more.
Yeastar Central Management: built for MSP, VAR, and other service providers to simplify Yeastar cloud PBX service delivery and on-premises devices management.
Powerful 3rd-party integrations: Zoho CRM, Hikvision Intercom, Dahua Integration, and Jabra Headset
View the complete solution of Yeastar P-Series PBX System, or get a free trial with the Cloud edition.
Expanded Offerings for Digital Workplace Evolution
Yeastar Workplace
Purposely built to help organizations elevate workplace efficiency with a fluid flow between people, resources, and information, Yeastar has rolled out its first component of Yeastar Workplace solution – Meeting Room Booking System – in September 2021. With a few months of continuous upgrade, the system is now more powerful.
Focusing on simplicity, ease-of-use, and efficiency, Yeastar Meeting Room Booking System incorporates a cloud-based platform, touch-screen room displays, and smart sensors that offer interactive space scheduling and utilization analytics. It streamlines booking workflow with a wide range of features, including Outlook (Microsoft 365) / Google Calendar integrations, "no-show" reservation auto-release, and more, so teams can focus on work that matters.
You can now sign up for a free trial to experience the solution at no cost! And Yeastar will also continue to consummate the solution in 2022 for a better utility. Stay tuned!

5G CPE
Companies big and small rely on high-speed Internet for faster connections. And as a key element for the digital workplace, Yeastar also launched the Yeastar 5G CPE in 2021.
Designed to connect business with ultra-fast networks, Yeastar 5G CPE is a 5G connection hub that converts 5G signals into Wi-Fi or wired Ethernet. As our first generation for products alike, we are listening to feedback and keep improving to better-fit customer needs. If have any suggestions, please contact us. We are all ears and always here for you.
Yeastar Yeahs Awards Launch
At Yeastar, 2021 was not only a year of innovations but also appreciation. This year we've launched our first Yeastar Yeahs Awards to honor those Yeahs moments our partners achieved by providing Yeastar P-Series PBX System to their customers. We collected success stories shared by partners worldwide, and will release a Yeahs Story Set in the following months to inspire and encourage organizations experiencing business communication challenges to thrive.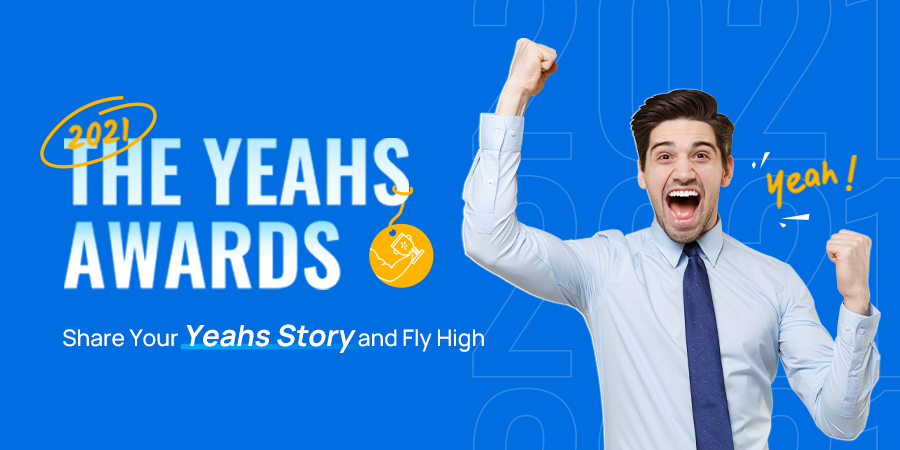 The 2021 Yeastar Yeahs Awards winners will be announced on our live streaming this January. You can subscribe now to stay informed of the latest news and get a grasp of those representative and award-winning customer cases.
Some clips of Yeahs moments shared by Yeastar customers:
"$270K saving yearly"
"The Linkus web, desktop and mobile clients were a hit."
"Queue Reports came in handy when finding which departments need improvement."
"Inter-branch calling dropped the monthly telephone bills dramatically."
"We can now work remotely without any problem."
"We now have a proper conference phone and conference solution."
New Certification Courses at Yeastar Academy
Product knowledge is always the key for sales and support success. To fast onboard Yeastar partners and whoever needs all-round sales and tech knowledge of Yeastar P-Series PBX System, we've rolled out 5 new level-based certifications courses in 2021 to cover everything from P-Series PBX System understanding and configuration to maintenance and troubleshooting. These courses include:
You can take these courses by self-paced video learning, highly-interactive online webinar, and instructor-led classroom training to your preference.
Explore Yeastar Academy course details, training schedule, and certification exam here.
60 New Videos, 1000+ Webinars, 400K YouTube Watch
In addition to the systematic Yeastar Academy training courses, we've been committed to crafting Yeastar YouTube channel into an informative learning hub for Yeastar partners, users, and learners. In 2021, we have updated 60 videos that cover a wide range of topics, including Yeastar product explainers, UC feature introduction, in-depth tech talks, quick start guide, and more. These videos have helped our subscribers gain deeper insights into unified communications and master the skills required in daily operation.
Here are the top 3 most-view videos we released in the past year.
PBX Plus More: Yeastar P-Series PBX System Intro & Highlight Features | Watch Now
How to Integrate Hikvision Door Phone with Yeastar P-Series PBX System | Watch Now
Integrated Video Conferencing Solution on Yeastar P-Series PBX System | Watch Now
Besides the videos, we also hosted over 1000 on-demand webinars for Yeastar channels to get hands-on Yeastar solution learning. Among all the webinar topics, we've selected three evergreen contents and recorded them for your playback whenever needed:
Yeastar Intercom-Telephony Integration Solution | Watch Now
Yeastar Call Center Solution | Watch Now
What & Why: Yeastar P-Series System Solutions and Use Cases | Watch Now
If there is anything you want to learn via video or webinar, let us know in the comment! We will take your suggestions into consideration and create better contents for you.
Awards & Recognitions
All these awards we won in 2021 are reflections of Yeastar's passion and commitment to addressing evolving customer needs and great testimonials of Yeastar phone system performance, competitiveness, and popularity.
Reader's Choice ICT Product of the Year 2021 by Funkschau

, one of the most renowned specialist magazines in the ICT industry. The awards collected over 20,000 votes from the industry expertise and this is the 3rd year in a row for Yeastar to win.

Yeastar P-Series P550 Ranked

No.1

in Telecommunications Systems for SMEs
Yeastar P-Series P570 Ranked

No.1

in Telecommunications Systems for Large Companies
Yeastar Cloud PBX Ranked

No.1

in Cloud Telephony
2021 Remote Work Pioneer Award by TMCnet

, a full-service news portal for communications and technology. The award honors companies whose software and other solutions support the massive increase in Remote Working brought on by the Coronavirus Pandemic.
See more awards and recognitions we have received for our product excellence and for business performance.
Celebration of Yeastar 15th Anniversary
In 2021, Yeastar also welcomed its 15th birthday. In this remarkable celebration, Yeastar partners from over 100 countries shared their impressions about Yeastar and left us a few top-mentioned keywords listed in the image below. We are very grateful for all these recognitions and will always head towards shared success.
A Quick View of Yeastar Celebrations with Partners Worldwide:
What to Expect in 2022
Stay tuned for an exciting 2022. We are going to refresh our brand to focus more on the value we deliver and dive deeper in developing straightforward and customer-centric UC&C and digital workplace technologies.
For unified communications, you can expect revamped features, more powerful integrations with CRM and AD (Active Directory), and P-Series Software Edition support for large enterprises. For digital workplace, visitor and desk management will come to craft a more competitive solution.
Just a sneak peek. A series of advanced P-Series PBX System new features will be unveiled on our live streaming this January, which will help our partners bolster their offerings and realize more sales opportunities. Register now for the live streaming and receive schedule notification.
We look forward to building the joint success of Yeastar and our partners together in 2022. From all of us at Yeastar, may you all have a safe and happy new year!

Sourced from: Yeastar. View the original article here.