At Yeastar, we believe the right technology should be easily accessible and seamlessly integrated to help businesses stay flexible and agile. That's what this P-Series PBX System update is all about.
This update is loaded with Remote IP Phone Auto Provisioning, Headset Integration, Organizational Hierarchical Management, HubSpot Integration, API, Music on Hold Streaming, etc. Without further ado, let's get straight into it.
Watch Live for a Deep Dive
Curious about how these new features work? There will be a live stream on May 18, 2022, at 9:00 a.m. (GMT) featuring an in-depth introduction to a slew of exciting new features, demonstration, and Q&A. It will be streamed on Yeastar's website and YouTube channel. Stay tuned and save your date. See you then!
Remote IP Phone Auto Provisioning (RPS FQDN)
Many businesses are not confined to one particular network. IP phones used across multiple branch offices and geographically dispersed home offices need to connect back to the headquarters.
As we know, IP phone auto provisioning works in different ways. PnP and DHCP are used in the in-office scenarios while RPS (Redirection and Provisioning Service) is used for remote IP phones that are not within your company LAN. Now, there is a better way with the help of FQDN (Fully Qualified Domain Name).
With a Yeastar-supplied domain name, simply add the MAC address of your IP phone and the custom URL of your P-Series PBX system to the RPS server provided by your IP phone provider. Upon initial boot-up of the IP phone, it will request the configuration file from the RPS server and then be redirected to the pre-assigned server, i.e., your P-Series PBX System to access the file and complete the configuration. As an upgraded solution to the normal RPS approach, using FQDN not only simplifies the mass remote deployment process into a one-click experience but also avoids port forwarding for improved security.
P-Series PBX System can now work with RPS-supported IP phones, including Yealink, Fanvil, Snom, and Gigaset, to enable easier and more secure remote IP phone auto provisioning. Please note that this feature is supported by P-Series Appliance and Software Edition and the Enterprise or Ultimate Plan is required as well.
More Compatible Headsets
The combination of headsets and UC Clients or softphones is widely used by call centers, sales & support agents, and the remote workforce to increase call efficiency, ensure optimal audio quality, and create an immersive voice communication experience.
With this P-Series update, you will be able to use any WebHID compliant headsets along with Linkus Web Client or Yeastar Linkus for Google Chrome Extension to answer, reject, end, mute, and hold calls and adjust volume directly. In particular, we recommend headsets from Jabra, Yealink, EPOS, and Poly which are tried and tested.
No need to pick up the receiver, you have both hands free to use the computer during a call and the freedom to walk around or stretch your legs when making a long call knowing that you can easily control it by pressing buttons on the headset.

Organizational Hierarchical Management
In a modern organization, hierarchies, workflows, team structures, reporting relationships, and information flows are all parts of the organizational structure, and its IT infrastructure needs to support this structure to streamline daily operation and management, especially for large enterprises.
If you are managing various layers of organizational hierarchy, this feature is just right for you. The newly added organizational hierarchical management feature helps mirror the organizational structure into P-Series PBX System which will be displayed right on the Linkus Web/Mobile Client. Employees belonging to different departments can also be assigned custom visibility and permissions for further granular control.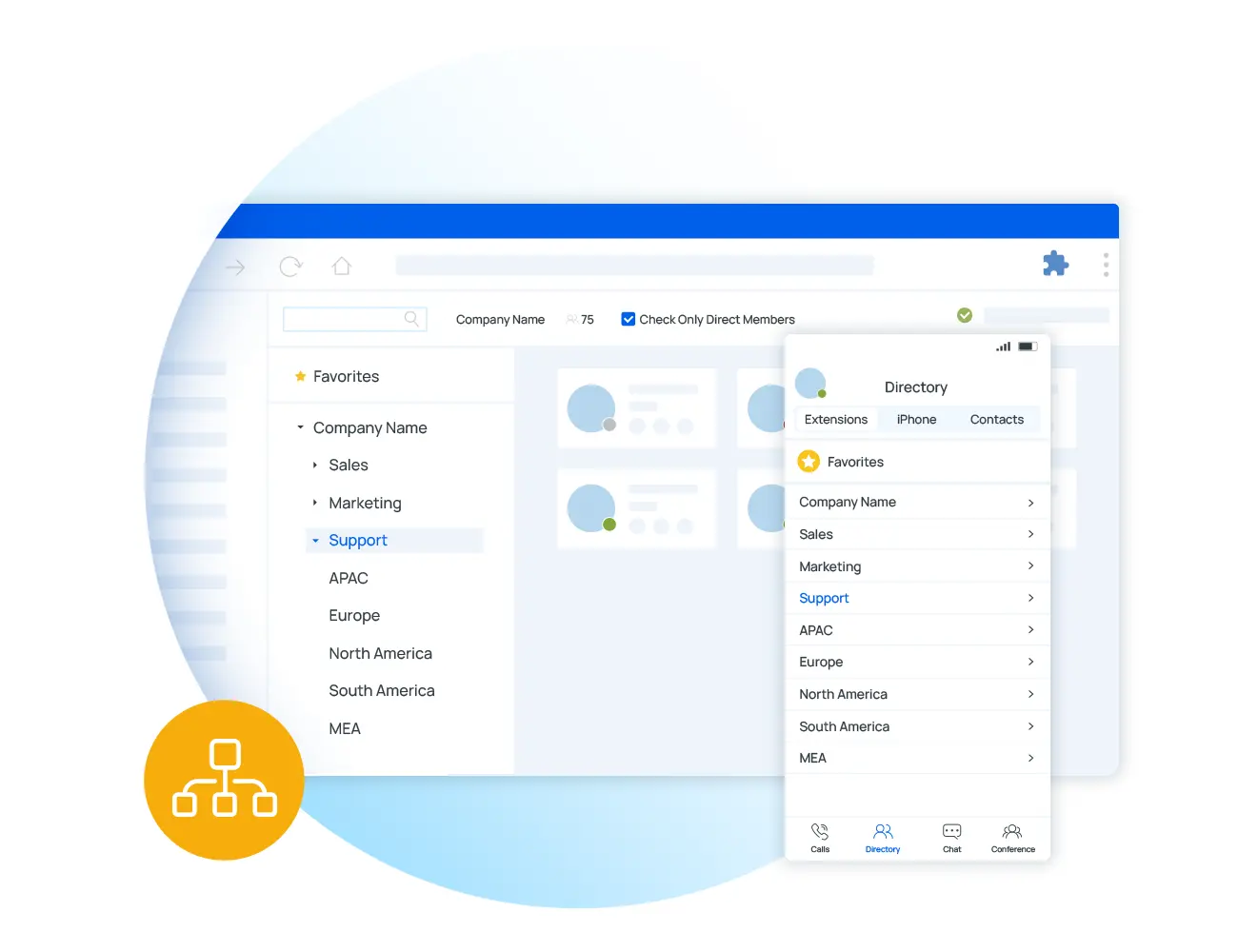 HubSpot Integration
HubSpot is a marketing, sales, and service platform that helps companies to attract visitors, convert leads, and close & retain customers. By connecting P-Series PBX System to HubSpot, the two systems can complement each other to simplify call-activity management and align your business conversations and customer data together. With more detailed customer interaction information at hand, your sales team will be able to identify potential customers more accurately and customize offers accordingly.
Click to call a customer or prospect directly from HubSpot.
Receive instant pop-up for incoming calls with caller identification.
Log every call as HubSpot records without manual input.
Auto-create first-time dial-in unknown numbers in HubSpot.
Synchronize CRM contacts to a specific PBX phonebook.
API Support
API (Application Programming Interface) is an especially useful tool for meeting evolving customer expectations and demands, which helps service providers stay competitive and nimble in a rapidly transforming economy. Basically, it works as a bridge that allows data to flow and sync seamlessly among systems and platforms.
Now, with added API support for PBX configuration, call control, uaCSTA control, and event notification, you can develop more custom 3rd-party integration to extend the capability and adaptability of P-Series PBX System. Since it also needs some programming on the back end, please find detailed instructions here: Cloud Edition | Appliance Edition | Software Edition
Please note the Enterprise or Ultimate Plan subscription is required to use the API feature.
Wait, there's more!
Besides all the top picks mentioned above, we've also added some other new features and made a number of enhancements to make your life easier, such as:
Music on Hold Streaming: Set up on-hold music via Internet streaming.
IP Phone Remote Access: Remotely access the web GUI of IP phones via Yeastar Remote Management or Yeastar-supplied domain name (intended P-Series Appliance and Software Edition).
Notifications on Yeastar Linkus for Google: added support for new voicemails and instant messages.
More Feature Code Options: added support for call monitor and call forwarding destination switch.
Check out our release notes to see a complete list of new features, improvements, and bug fixes: Cloud Edition | Appliance Edition |Software Edition.
That's it. Time to Upgrade!
Excited about this P-Series update? It's available today. Just head over to the management portal of your P-Series PBX System to upgrade. If you haven't tried the P-Series before, feel free to sign up for a free trial to experience everything!

Sourced from: Yeastar. View the original article here.