Working for a company, you always want to think that your product or service is superior to the competition. As a Marketing executive, a major part of my job is to highlight why Ribbon is a leader in delivering IP Optical and Cloud & Edge solutions to the largest service providers, enterprises and critical infrastructure companies all over the world. But how do our customers perceive us? What do they really think of the Ribbon brand? How do we fare against our competitors in customers' minds? What factors are their purchasing decisions based on? These are all questions that we hoped to gain insights into when we engaged in our first ever Brand Assessment initiative.
Given, Ribbon is a new brand, relatively speaking (less than four years old), and the fact that the company is made up of several former well-known entities in the communications industry, we wanted a formal assessment of how our customers, partners and prospects perceived us. With the help of a leading business intelligence and branding research firm, we surveyed more than 150 of these individuals from around the globe.
Our objectives were:
Measure Ribbon's brand awareness and perceptions among our customers, partners, and prospects.
Understand Ribbon's visibility around the world and brand perceptions in different regions.
Create a quantitative benchmark that will enable Ribbon to measure year-over-year progress against key strategic objectives.
Gain qualitative insights from subset of our sales team and customers and partners to help determine pain points and determine direction
Key Findings
Considering Ribbon is a relatively new brand, I was pleasantly surprised at some of the key findings from the research. For example, among those surveyed, Ribbon ranked second for Brand Awareness among companies who were recognized as a provider of communications and networking solutions, ahead of some of the most well-known companies in the industry. A couple of other interesting things about the response to this question is that almost one in three customers associated Ribbon Communications with legacy brands like GENBAND, Sonus Networks and ECI Telecom and our company is mainly associated with products, especially Session Border Controllers (SBCs) and service quality.  Similar to Brand Awareness Ribbon also came in a close second in Brand Usage, again ahead of other high-profile industry companies.
I was extremely pleased to see that Ribbon ranked relatively high on brand trust, reliability of products, pricing, and transparency in communication with customers. We pride ourselves on our solutions and services and it is great to see that our customers trust us and believe that we are honest. These also happen to be key pillars of our core values – so it is very encouraging that these values are resonating with our customers.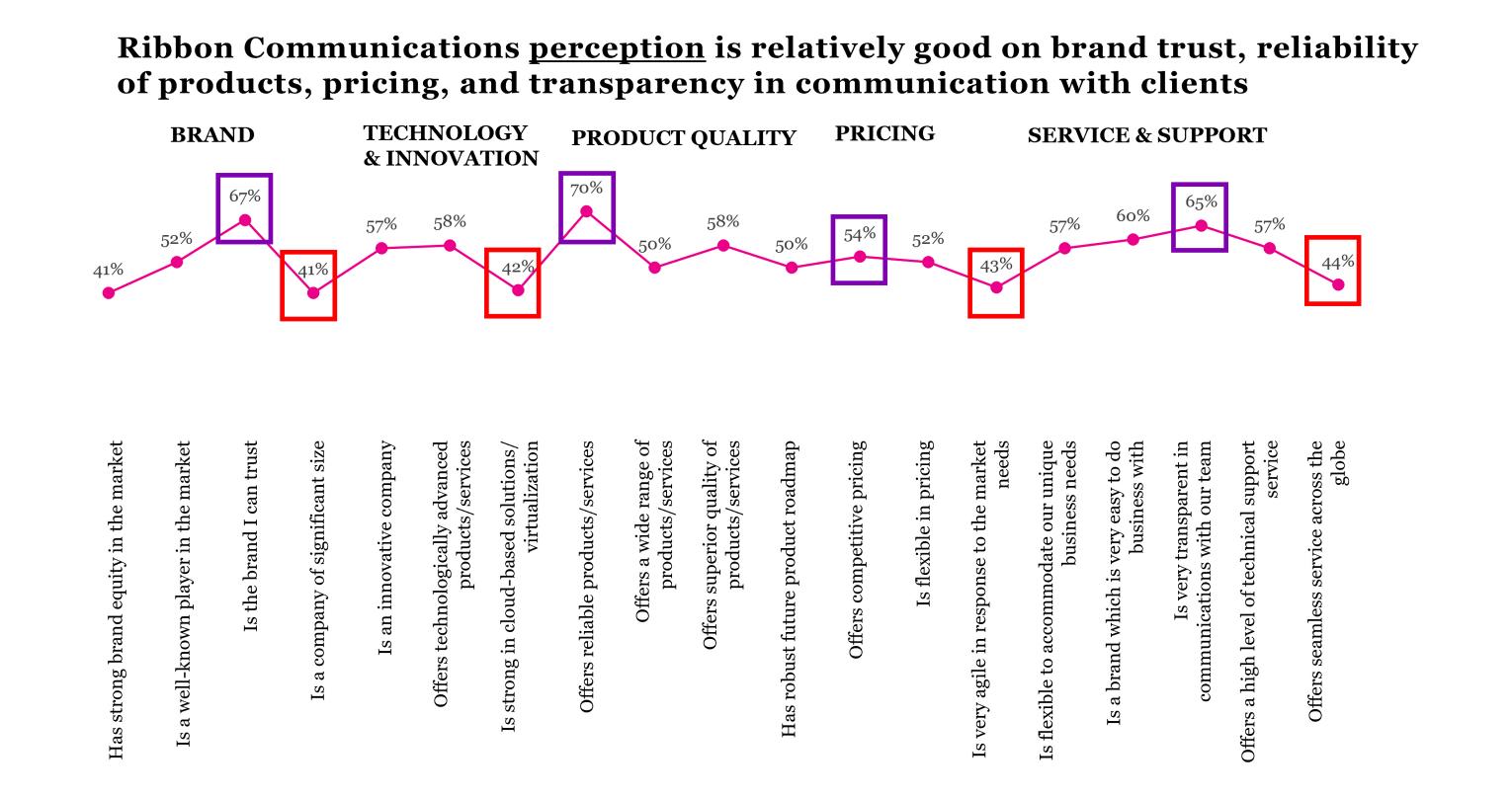 Another very encouraging finding from the survey was that Ribbon fared extremely well against most of our competitors around Quality, Pricing and Ease of Doing Business. This is key because the survey also found that Quality of Products and Services, Price/Costs and Strong Technical Support are the top factors for selecting a provider. To know that we are doing well in the eyes of our customers, partners and prospects in the areas that matter most to them when considering whether or not to do business with us is validating to our strategy and overall approach.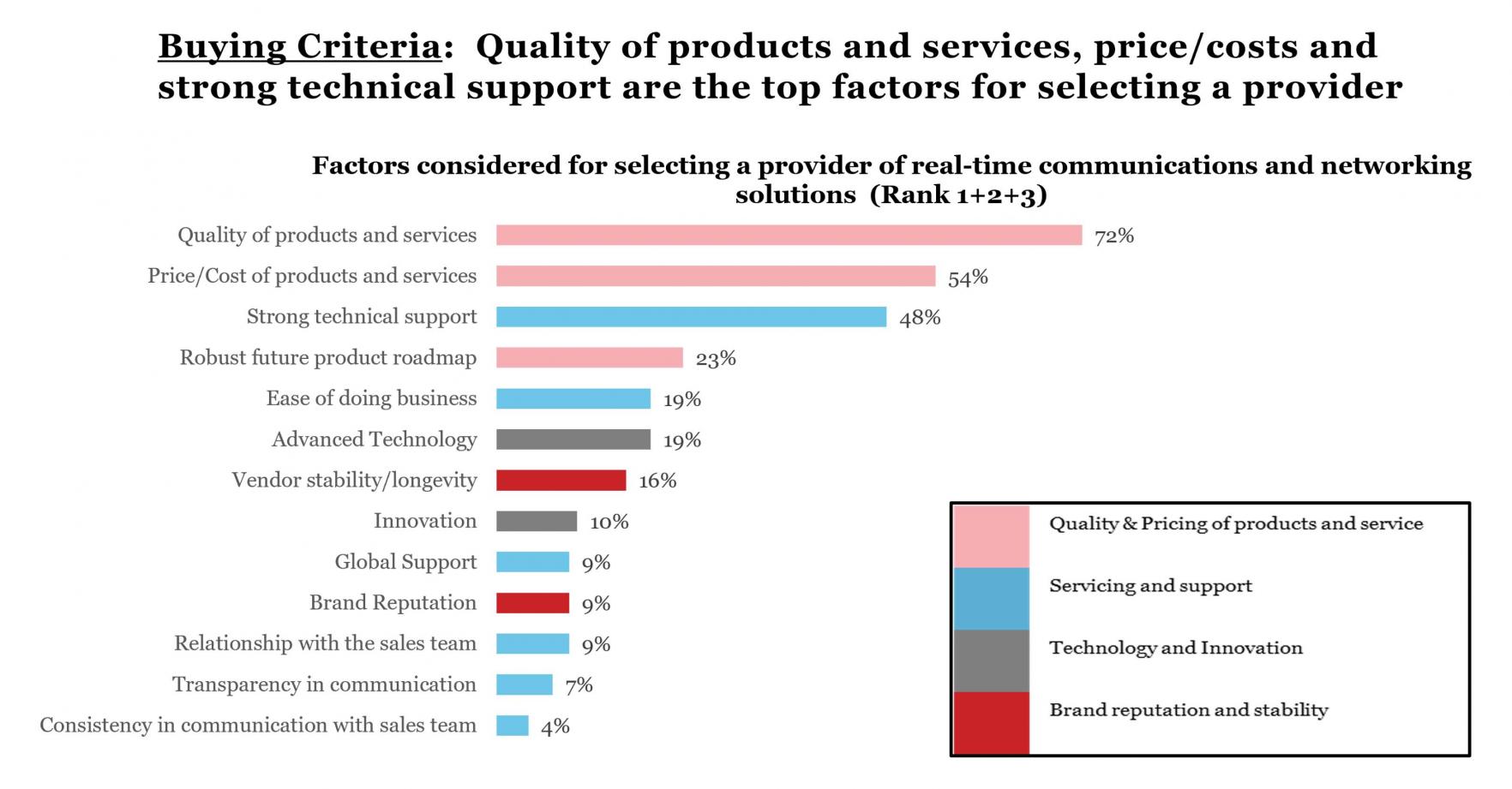 Key Takeaways
Even though the results of the survey were very positive overall and encouraging for Ribbon, there were  some areas of opportunity that we will be focused on improving. These include continuing to be very aggressing in promoting the Ribbon brand and raising the awareness of our IP Optical offerings. Our merger with ECI Telecom last year enabled us to double the size of our company and provided us with a exponentially larger Total Addressable Market. We have several initiatives underway and in the planning stages to continue to position Ribbon as an industry leader and increase the awareness of our IP Optical solutions and services.
One of the biggest takeaways and findings that I am most encouraged by is that more than three quarters of survey respondents, a whopping 77% are likely to increase business with Ribbon within the next year. That tells me that we are doing a lot of things right and are definitely on a path to success. I am looking forward to next year's findings!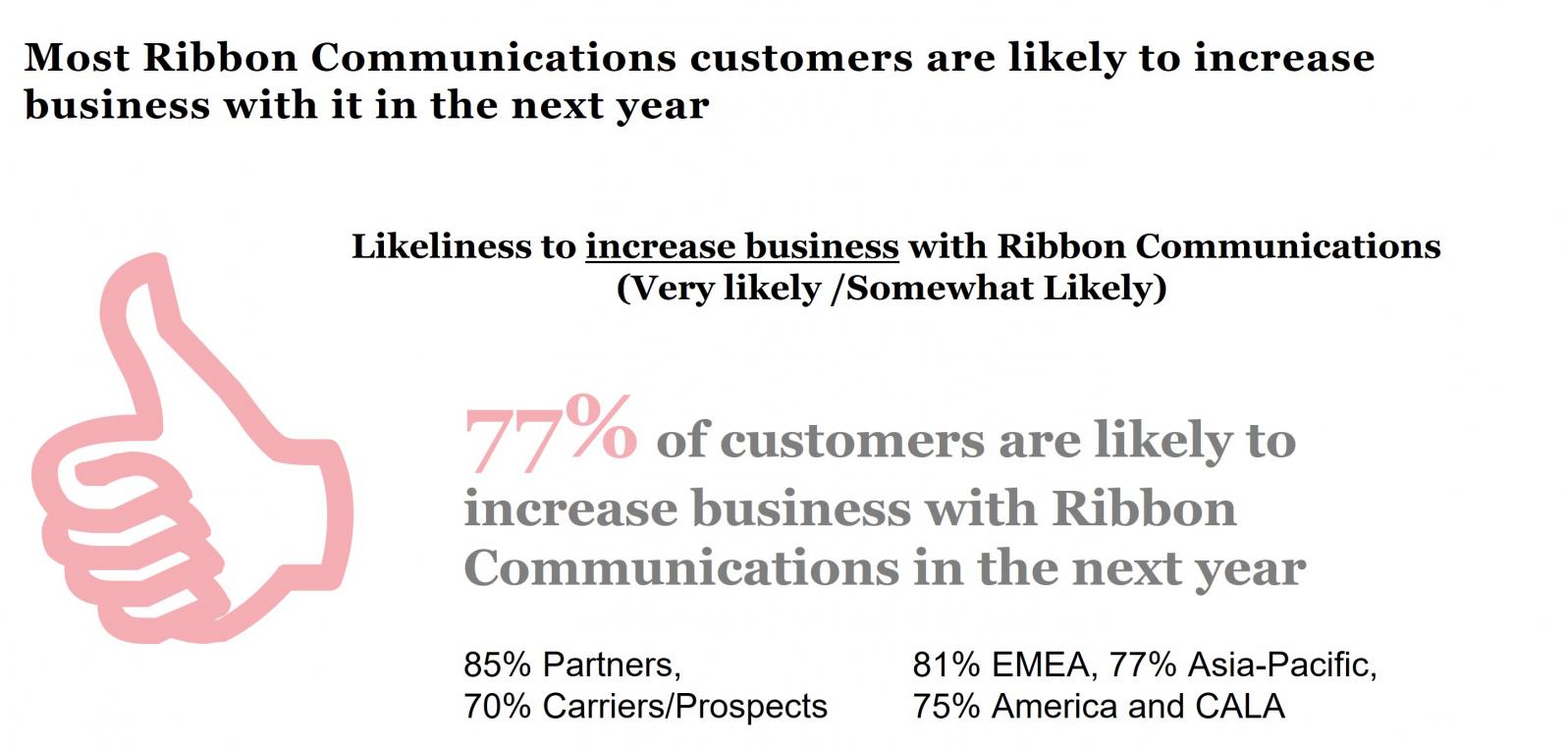 Sourced from: Ribbon Media Center. View the original article here.